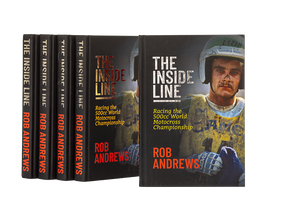 THE INSIDE LINE: RACING THE 500cc WORLD MOTOCROSS CHAMPIONSHIP
The critically-acclaimed motocross book by Rob Andrews
"A MOTOCROSS MASTERPIECE!"
The Inside Line: Racing the 500cc World Motocross Championship...
...is a unique, detailed, and comprehensive first-hand account of life as a professional racer competing - and contending - in the 500cc world motocross championship.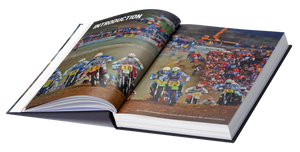 Tracing the journey...
...of Great Britain's Rob Andrews, from unremarkable amateur, through to factory Kawasaki rider, 500 GP contender, and member of Great Britain's 1985 Motocross des Nations team, The Inside Line goes where no book has gone before: deep into the heart of life as a professional grand prix motocross racer.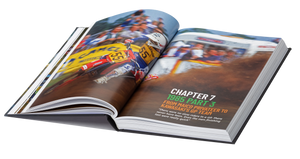 Litho printed throughout in full colour....
...on the finest quality silk art paper, The Inside Line is a mammoth, heavyweight, 416-page, 93,000-word hardback book of uncompromising quality and detail.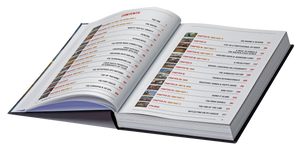 Superbly illustrated...
...with nearly 400 incredible images from some of the most acclaimed photographers in the industry, The Inside Line takes the reader on a fascinating odyssey of insight and intrigue.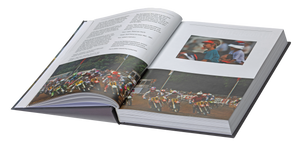 Learn the inner workings...
...of the grand prix motocross world, get answers to long-pondered questions, and discover things you never knew. There are facts that will surprise you, anecdotes that will make you laugh, and brutally honest, never-before-published information.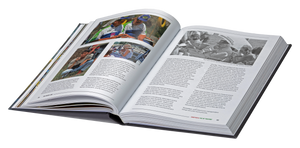 Find out how it felt...
...to race against motocross legends on the world's most famous and revered grand prix circuits. Discover what it was like to race a full-factory 500 for Team Kawasaki. Learn how the riders on the nomadic grand prix circuit lived, travelled, trained, and practiced while on the road.
And even read how many in the close-knit GP paddock were ripped-off in an elaborate, multi-million-pound financial scam. Seriously. It happened.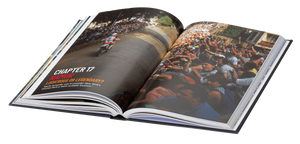 Join Rob...
...as he guides you - in his own words - through the highs and the lows, the adrenaline and the sacrifice, the jubilation and the occasional devastation of his extraordinary journey from raw novice all the way to the biggest stage of all: the 500cc world motocross championship.
And by the end you'll understand just what it was like - and just what it took - to be a grand prix motocross racer.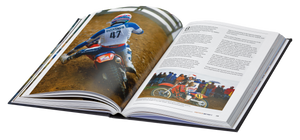 Media testimonials
"Consuming, engaging, engrossing, fascinating, gripping, immersing, interesting, intriguing.

Dirt Bike Rider magazine - UK
"A wonderful addition to every motorsports enthusiast's bookshelf!"

Racer X magazine - USA
"The most comprehensive exposé of what it's like inside the world of high-stakes motocross. The good AND the bad"

Motocross Action magazine - USA
"Compulsive reading. Rob's smashed it with this book!"

Trials & Motocross News - UK
"It's the first book to really tell the truth of the highs and lows of a professional motocross racer. And it's told with humour, passion and humility. A must-read!"

Motohead magazine - UK
"The most detailed and comprehensive motocross book to date. A revelatory 'lid-opening' on this spectacular niche sport.  Long overdue."

On-Track Off-Road magazine
"With 400 pages, great stories and wonderful pictures, Rob takes us back to the glorious 1980s and puts a smile on our faces. We REALLY like this masterpiece!"

Cross Magazin - Germany
"The book gets better with every page. We love it!"

MX Vintage magazine - Belgium
"You won't find a more detailed account of the ups and downs of life as a pro motocrosser. A great read indeed!"

VMX magazine - Australia
TAKE A LOOK INSIDE 'THE INSIDE LINE' BOOK